It's a first for me, but as I can feel this experience is going to be extraordinary, I will be writing this blog in a 5 part series over 5 days, reflecting my exact experience of the cruise ship Aqua Mekong.
今回はいつもと違う感じでブログを書きたいと思います。自分にとってアクア・ミーコングのクルーズに乗り、大切な経験だったので5日に渡って書いて行きます!
Having been to Vietnam a few times before, but never to Saigon – or Ho Chi Minh City as it is correctly called – myself and my travel companion arrived at the ultra hip Hotel des Arts without expectations late at night. What greeted us was a chic hotel with a rooftop whose speakers were booming, a crowd of cool travelers and hip locals overlooking the infinity pool and onto the bustling city below.
何回かベトナムに行ったことはあったけど、サイゴンは初めてだった!友達と深夜についたホテルはおしゃれなホテル・デ・アートでした。景色も最高で色んな人が集まりパーティしてて素敵な空間を味わえた。
After one of the best hotel breakfasts I've ever had – there's a pho station!! – we strolled around the nearby cathedral and downtown, before we were picked up and whisked to the pier where we would board the majestic Aqua Mekong. To call this boat a cruise does not do it justice – it's a floating 5 star extravaganza.
フォーが立ち並ぶ最高の朝食の後、少し街を冒険してすぐさま港に向かって船にGO!クルーズを超えるクールズが始まろうとしていた。
With its chic, dark exterior, on board it's all about luxurious minimal lines. The boat is 62 meters long and was designed by Saigon-based Nood design – if you could imagine an Aman hotel afloat, that's about as close as you can get.
シックにデザインされた船は、62メートルでサイゴンで有名な「Nood」がデザインされたもの。アマンホテルの船版!って感じ。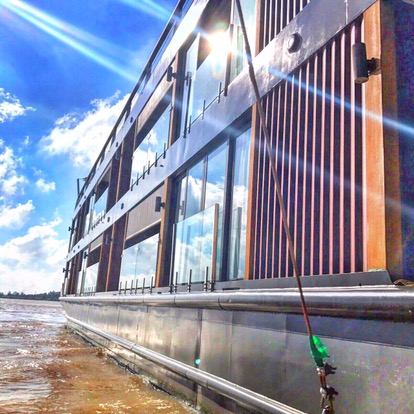 My room's curtains opened up to a floor-to-ceiling panorama, revealing the changing landscape as I would float down the Mekong from Ho Chi Minh City to Phnom Penh in Cambodia. The large ensuite bathroom with rain shower, the subtle lighting options around the room, and the daybeds in front of the windows provided plenty of comfort and glamour. With large-scale rooms and suites to accommodate a maximum of 40 guests – the ratio of passengers to guests is 1:1 – it's a guaranteed intimate experience.
部屋のカーテンを開けると床から天井までの大きい窓が広がり、サイゴンからカンボジアのプノンペンまで絶景を独り占め。ゆっくり楽しめて僕は満足♪ なんと40人以上もの大型スイートもあんだって。誰でも楽しめるクルーズになってるよ!さすが!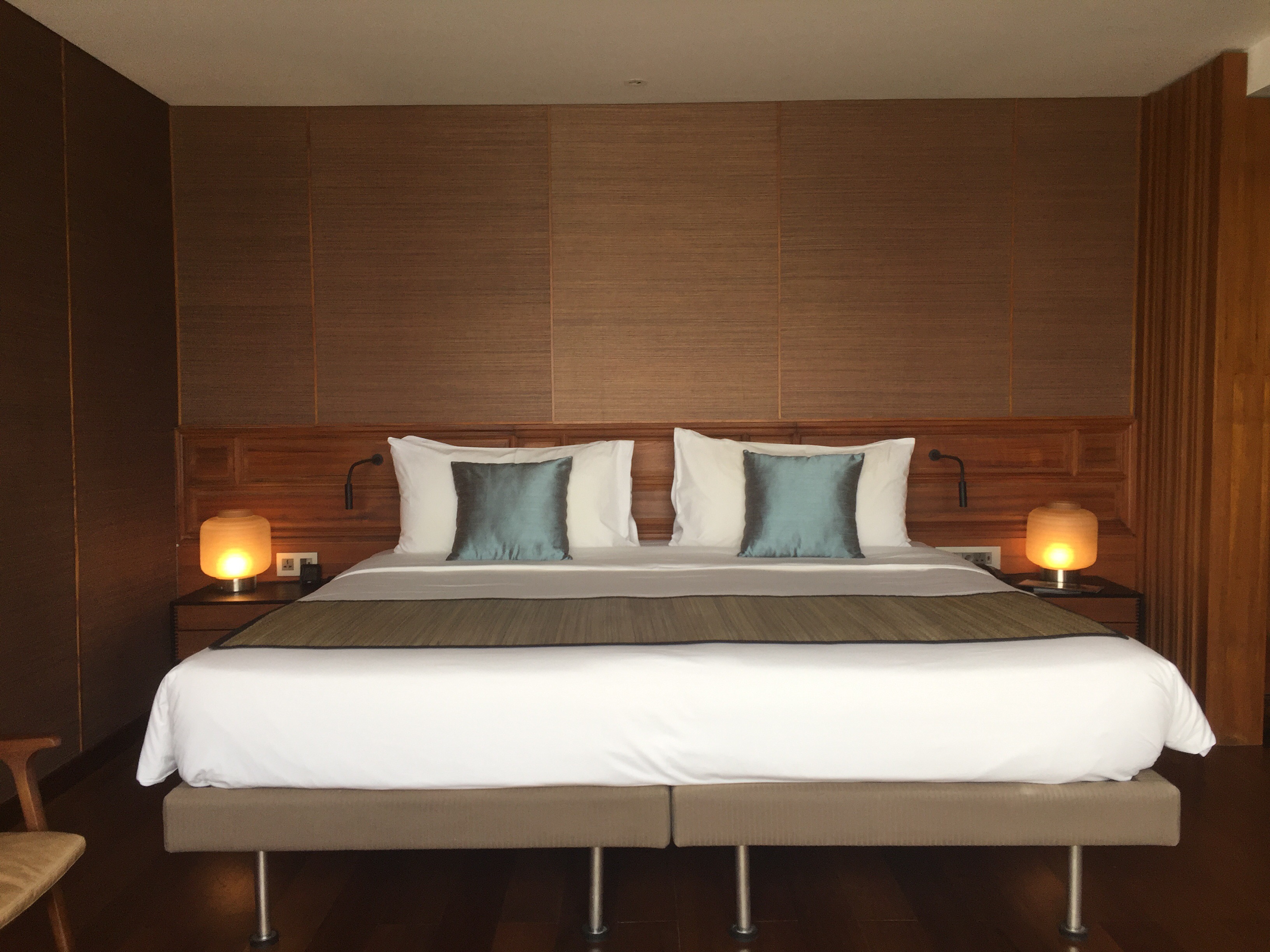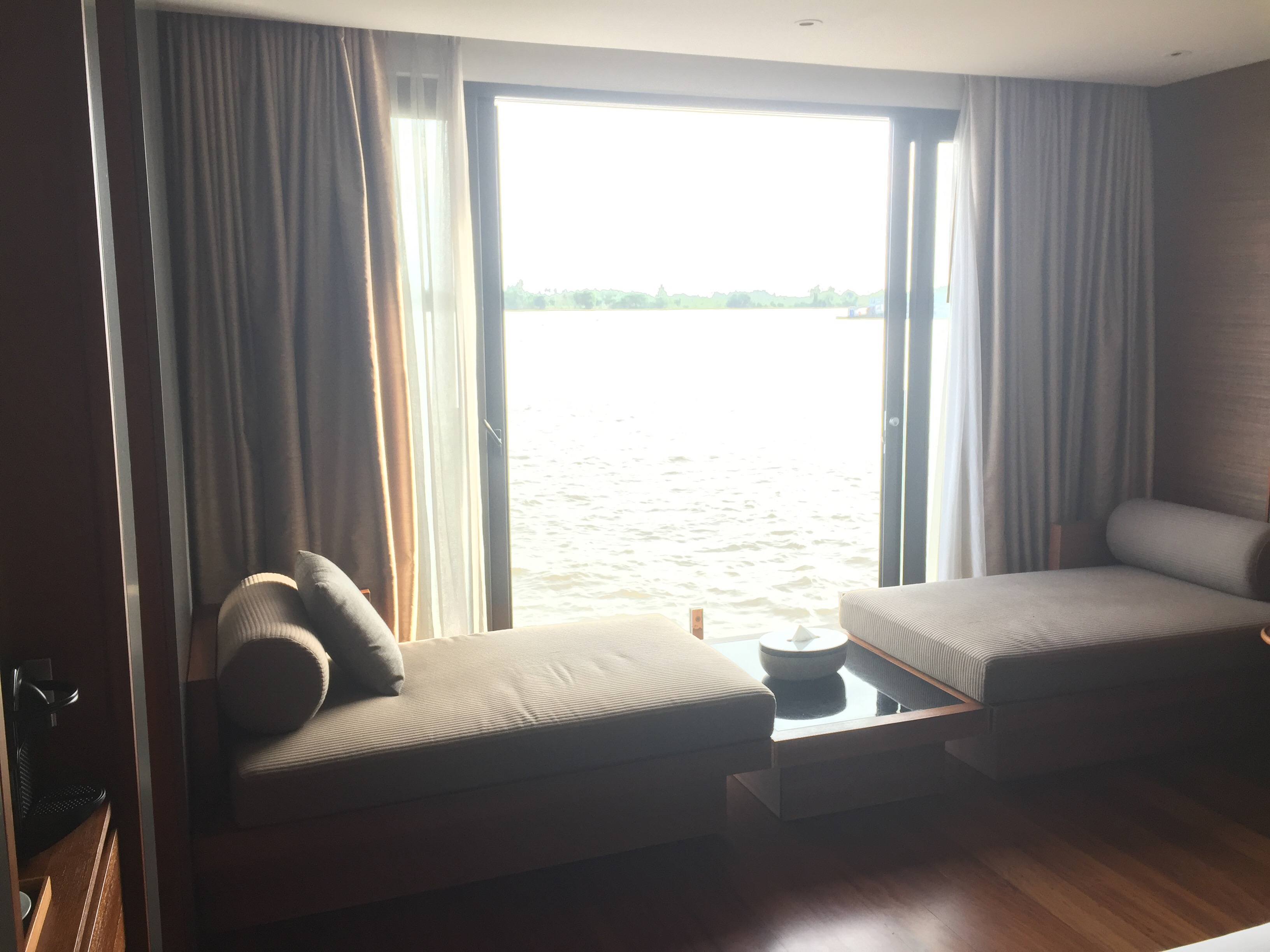 After exploring the ship, I wasted no time and headed to the in-house spa for my Khmer oil massage which was mindblowing – as I could hear the gentle hum of the boat gliding through the water, I was hypnotized by the rhythmic movements of my masseuse's hands.
船を探検し終えた後、すぐにマッサージでリラックスタイム。船でゆっくり揺られながら幸せなひと時を過ごせた。
Master chef David Thompson – of Michelin star Nahm fame – is consulting chef on the Aqua Mekong and has created an incredible menu based on regional and local favourites. Tonight's red chicken curry was literally the best I've ever eaten, and the appetizer of pork, prawn and ginger on betel leaves, and pomelo and squid salad with chili jam put me in the perfect mood for sleep.
I'm dreaming about what's in store tomorrow.
ミシュランレストランのシェフで有名のデビッド・トンプソン氏は現地の食材と味をいかした素晴らしいメニューを作りました!今夜はレッドチキンのカレーは本当に美味しかった。その他に生姜の豚肉とエビの葉包みや、唐辛子ジャム添えのポメロとイカのサラダは永遠に食べれた。遊び尽くした初日だったはっきり言える!
For details: https://www.aquaexpeditions.com/luxury-cruise-ships/aqua-mekong/