15年間も行き続けてるタイのプーケットは、本当に僕にとっては大好きな場所。今まで、ありがたい事に色んな素敵なリゾートに泊まって来たけど、トリサラ・リゾートは別物だった。
It's no big secret to reveal that Phuket is one of my favourite places on the planet. I have been going there constantly for the last 15 years and it never disappoints. I've also had the privilege of staying in some of the most wonderful resorts on the island… But stepping into the esteemed Trisara resort was on another level.
リゾートを見た瞬間、余計帰りたくなくなった。もう最高の気分だった。心の中で興奮の叫びをしながらチェックインをして、満喫する準備万端!
It was an instant "aaah" moment when I was already dreading leaving the moment I arrived – I felt a sense of loss for something I hadn't even experienced yet. So I excitedly checked in, ready for more amazing moments – aaah!
国立公園に建てられている、トリサラは綺麗な景色はもちろん、プライベートビーチもあり!この数年プーケットのトップリゾートとして取り上げられ続けていて全てがラグジュアリー。よくあるリゾートとは違ってとにかくシックにまとまってて、ロビーにはオーバーサイズのソファーや庭園に滝も流れ入る!
Set inside a national park with sweeping views and its own delicious private beach, the Trisara has dominated the top of the top in Phuket for a while now – so why did everything feel so new, gorgeous and dare I say glamorous? Instead of the usual rustic island charm, Trisara has opted for chic, and its lobby is decked out in chic oversized beige sofas, lotus ponds and a magnificent waterfall.
場所的にすごい田舎で、人が多いパトンから離れてるからリラックスするしかない!(笑) 泊まったヴィラは海が目の前で、個人用のインフィニティ・プールも付いてたから部屋だけでリゾート感MAX。フラミンゴ浮き輪に乗りながらジン・トニックを飲んで、夕焼け
What is so particular about Trisara is the fact that because of its remoteness – it's situated far from the raucous crowds of Patong – you have no choice but to relax entirely. My beachside villa with its own incredible infinity pool meant I didn't even need to leave my room, let alone the resort. It was gin tonics at dusk as I watched the perfect sunsets, floating on an inflatable flamingo.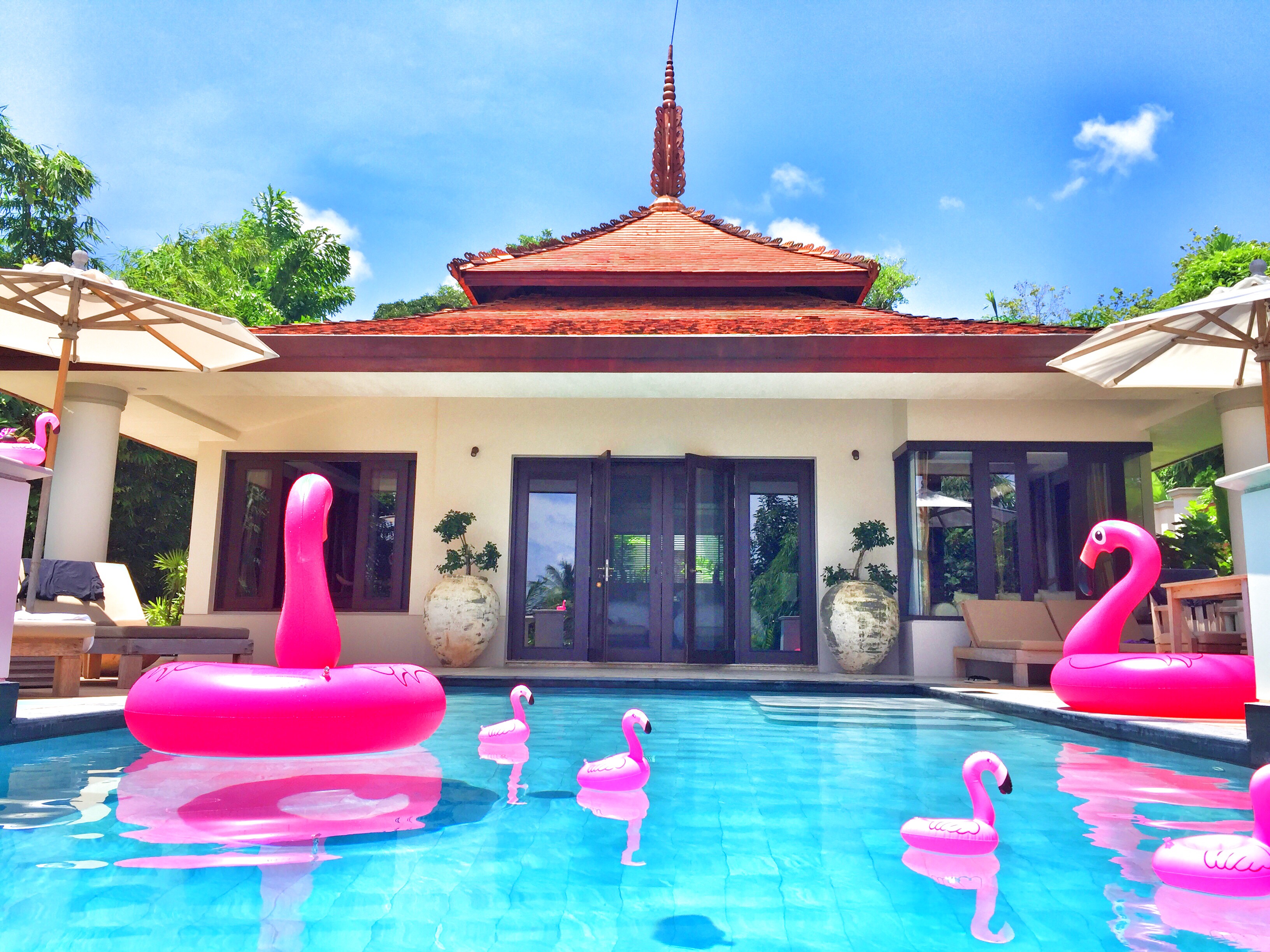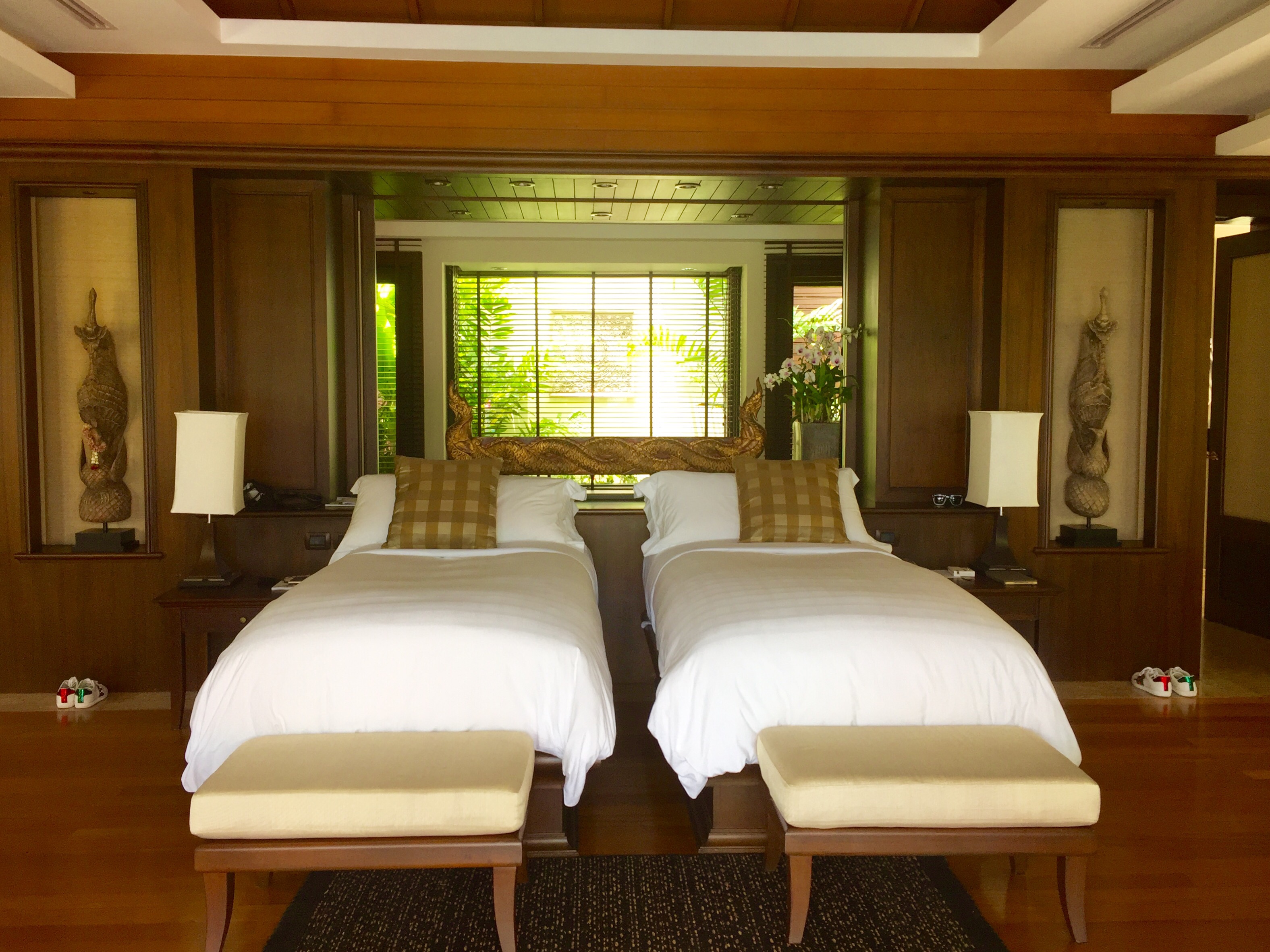 そして、嫌々と帰る日は、ずっと大きいプールと海で泳ぎまくった!お客さん満員状態だったはずだったのに、ほぼ誰とも会わずに過ごせたのは心からすごいと思う。ポップスターや、セレブリティに人気のトリサラ!! もちろん僕の大のお気に入りだよ!!
And when I did leave my villa, I spent time at the massive beachside pool, or jumping in the ocean. And despite the fact that the hotel was packed to capacity, I barely saw a soul. Trisara is the kind of retreat favoured by pop stars, celebrities, royalty and, let's face it, me.

散歩とヨガは外の庭で満喫したけど、ゴージャスで超綺麗!最高の朝食のカロリーを落すのも楽しくできました。
The Trisara gardens are spectacular and lush – my favourite part of the day was the walk through the forest to the yoga retreat, where a personal trainer would give me one-on-one abdominal sessions to help me work off what has to be one of the best breakfasts I've ever had.